Follow Rich Wilson on Great American IV during Vendée Globe 2016!
Are you a teacher?
Sign up to receive weekly summary emails of program content!
sitesALIVE! has produced 75 live, interactive, semester-long, curriculum-based, learning adventures since 1990 to excite and engage students in learning science, geography, math, and history, and all in a real world context.
During Vendée Globe 2016 (November 2016 – February 2017), teachers all over the world will be using our curriculum in their classrooms as they track the progress of Great American IV on her 28,000 mile journey around the world
---



Are you a sailor?
Sign up for boat position updates, ship's logs, audio reports, photos, & videos!
Vendée Globe is the only non-stop solo race around the world without assistance: 28,000 miles and approximately 100 days
In the first 7 editions, 138 skippers started and about half finished. Rich Wilson was 9thof 11 who finished out of 30 starters in the 2008-09 race.
The Vendée Globe is above all a voyage to the ends of the sea and deep down into the sailor's soul
The public refers to it as the "Everest of the Seas", a race "that is almost beyond belief" says Gary Jobson (ESPN-TV Commentator)
---



Do you have asthma?
Sign up to learn what you could accomplish!
Rich has dealt with severe asthma since early childhood and needs to use 4 drugs daily.
"So here we are again, with another dream in front of us, Vendée Globe 2016. We'll go day and night, non-stop, 24,000 nautical miles, flat-out aboard Great American IV for ~15 weeks. I've got my medications ready, but they are just a part of my day now, like having breakfast, no big deal, that is if I keep up my discipline.
And so I say to anyone who has asthma, be a scientist about your own body so that you can tell your doctor what triggers your asthma, clean up your room so it doesn't collect dust, and get outside and play sports or be active so you can strengthen your body and your lungs. And most importantly, here's the key, keep dreaming the dreams that you have. And one day it can be for you just like it is for me, you yourself will be managing your asthma, you'll get a chance to tackle those dreams, and your asthma will not get in your way."
---



Are you a senior?
Sign up for weekly updates about the oldest skipper in the race!
At age 66, Wilson will once again be the oldest skipper in the fleet, and the only American.
In 2008, at age 58, he entered the Vendée Globe race and finished it, when only 11 of 30 boats in the fleet managed to complete the course.
Sailing 28,790 miles in 121 days, Wilson endured broken ribs, a facial gash, compressed vertebrae, hurricane force gales, an ascent up the 90' mast, crushing fatigue, fear, and gear breakage in braving the course via the Atlantic, Indian and Pacific Oceans, Cape of Good Hope and Cape Horn, in his 60' monohull Great American III.
---

Are you a parent?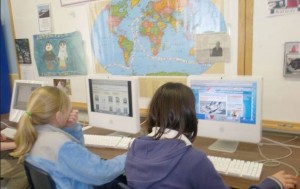 Sign up and use our Home Connection activities, to work and learn with your children!
These activities involve families and friends in the Ocean Challenge Live! experience
Available free in our Teacher's Guide
Examples of Home Connection activities:

Week 2, Marine Transportation. Find a container of food or a piece of clothing at home that was produced in another country. Find this country on a map, and explain to your family how it likely was transported from that location to your town.
Week 7, Climate Change. Use an online calculator to determine your family's "carbon footprint". Our houses or apartments are places where we can help with climate change by reducing energy use, creating green spaces to absorb CO2 , using efficient heating and insulation. Design and implement a plan with your family to reduce your carbon footprint.
---
Why Vendée Globe?
"The Vendée Globe is the world's greatest teaching tool."…Rich Wilson
The drama of the solo, round-the-world, non-stop race, its risk and uncertainty of outcome, will excite and engage our student audience. Once engaged, curricular subjects that are unconvincing in textbooks, become convincing in this real world context.
The race overflows with science, geography, math, history, with stars, flying fish, whales and birds, with nutrition, sleep deprivation, and physical fitness, with materials science, physics, electronics, satellites and mechanical engineering, with aerodynamics and hydrodynamics, with solar, wind, hydro and fossil fuel energy systems, with risk and isolation, with determination, decision-making, problem-solving, and perseverance.
---
Testimonials
"The trick to teaching is to not let them know they're learning anything
…until it's too late!"
…Prof. Doc Edgerton, Massachusetts Institute of Technology
"Fantastic program! What a thrill. Learning to the highest degree!"
…gifted & talented (grades 1–6) teacher, Indiana, USA
"We loved it! We used this program with social studies, math, science, computers and language arts! We did it all!"
…6th grade teacher, New York, USA
"At last, a truly interactive education program designed for the Internet. We've all been waiting for this."
…7th grade teacher, Florida, USA
"sitesALIVE! is a great way to become part of a global community."
…6th grade teacher, Massachusetts, USA