How Does Ocean Challenge Live! Work?
sitesALIVE! has produced 75 live, interactive, semester-long, curriculum-based, learning adventures since 1990 to excite and engage students in learning science, geography, math, and history, and all in a real world context. For Vendée Globe 2016 (November 2016 – February 2017) we will offer:

Written by teachers, with 15 weekly classroom activities, 15 current events activities and 10 team projects, focusing on Science, Math, Geography, & History. Click to view Common Core Correlations for each lesson.

Free on our website:
Daily: Ship's Position & Log; Audio Report; Sleep & Asthma Data
Mon-Wed-Fri: Q&A with Skipper & Experts, Photos & Videos
Weekly: Essays by Skipper & an Expert on the Curriculum Topic of the Week
Meet our Team of Experts
Forums: Online, interactive, moderated forums on weekly curriculum topics allow students to comment, and to interact with peers, globally.
Participation certificate: A PowerPoint template will be available for download that can be customized to add a student's name and school, awarding their participation in Ocean Challenge Live! See an example of the certificate.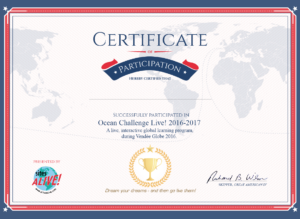 Download PDF of Participation Certificate
Download writeable Powerpoint slide of Participation Certificate
If you'd like to submit a photo of students holding their participation certificate, please email to vendee@sitesalive.com.