Teachers: Participating in Ocean Challenge Live!
We offer many free resources, so that you and your class can participate in the Ocean Challenge Live! program.

Download Free Teacher's Guides:
In Newspaper in Education (NIE)
Participation Certificate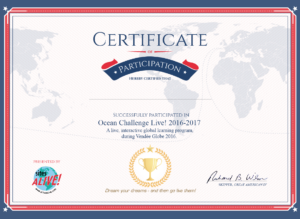 Download PDF of Participation Certificate
Download writeable Powerpoint slide of Participation Certificate
If you'd like to submit a photo of students holding their participation certificate, please email to vendee@sitesalive.com.